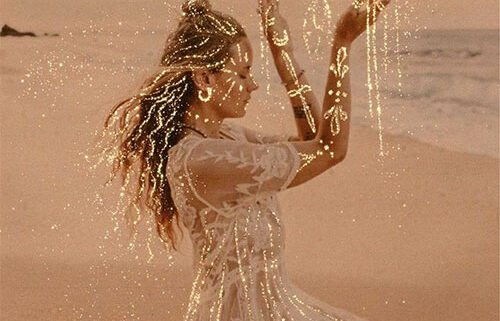 Śiva and Śakti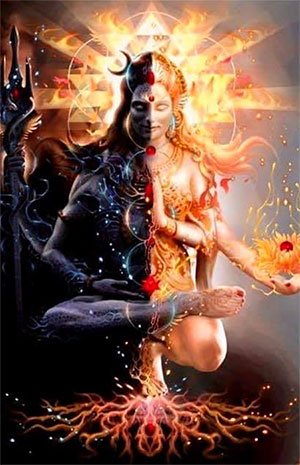 The main cosmic principle is the principle of antipodes: light and shadow, good and evil, activity and lethargy, yin and yang and also man and woman. One loses its existence in the absence of the other and one becomes complete in case of integration of both. Balancing of these opposites is yoga.
Modern times lead us to extremism: either this or that and nothing in between. When I want to build a career, I forget my female role as a caregiver and protector of the family fireplace.
Or: if I want to be a woman, I can't fully live my skills. However, being a woman and especially feeling like a woman does not depend so much on external circumstances as on examining and mapping her inner feminine landscape and securing her inner needs, and it is always primarily a matter of harmony and balance.
We spend 5 days together in a greater women's circle of deep nurture and care without judgement and with an open welcoming heart. We take retreat from our daily activities and dive deep into our nourishing feminine nature. We give our loving attention mainly to the area of the heart and pelvis, the center of intuition and the source of creativity.
What to expect?
Daily yoga practice including asanas, pranayama, meditation and chanting. Trip to the famous Sri Krishna temple in Guruvayur and morning boating in the serene atmosphere of the Kerala backwaters. Ayurvedic food and free time for reading, swimming and relaxing walks on the beach.
Daily schedule:
6:30-7:30 prata smarami and pranayama
7:30 tea and banana
8:30-10 asana practice (hormone yoga, yin yoga, hatha)
10-11 brunch
11 seva
11-3:30 free time
3:30 tea
4:30 yoga (yoga nidra, woman circle)
6pm dinner
7:15 satsang (on some days)
✷ The above timings might vary slightly.
Retreat Venue
Arsha Yoga Gurukulam (www.arshayoga.org) is located in silent village surroundings of central Kerala, where traditional knowledge of yoga, Ayurveda and Vedanta is being impaired.
The Gurukulam provides accommodation in 3 different categories:
1. Shared double accommodation with shared bathroom or safari tent,
2. Double occupancy with attached bathroom,
3. Suite with double occupancy with attached bathroom, balcony and kitchenette.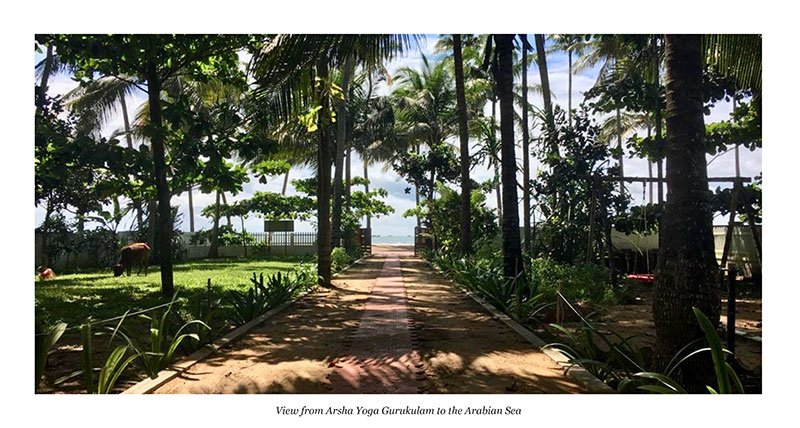 The Ashram provides two simple vegetarian ayurvedic meals per day that suit the learning and practicing of yoga and two times chai and snacks.
We take effort to provide homegrown organic vegetables and fruits from our garden to the guests. What we eat, we serve also. We do not use any chemical detergents such as washing powder or cleaning detergent. Our main home makers are vinegar, baking soda and soap nuts. Even
though the soil is mostly sandy, since some time, our garden doesn't need any extra fertiliser, as we use the mixture of cow dung from our cow Parvati and compost waste.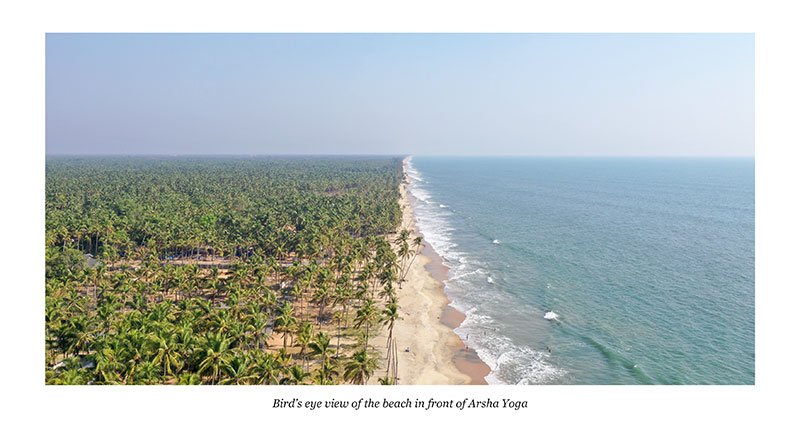 We can proudly say, that you cannot find such a green land anywhere along the beach stripe.
In respect of the local culture and in consideration of the ashram life please follow the ashram guidelines:
• Alcohol, drugs, smoking and non-vegetarian diet (meat, fish or eggs) are prohibited during the ashram stay.
• Long pants and t-shirt covering the shoulders are required for the ashram stay. Tight fitting and
transparent clothing should be avoided.
• For swimming, women are requested to wear shorts down to their knees and a t-shirt covering the
shoulders.
• This is plastic FREE zone. If you bring any plastic bags or bottles with you, please think of packing them with you when you leave.
• Mosquito nets, first aid kit, boiled water are provided and eco-friendly washing soap can be purchased from the ashram.
• Be punctual in schedule, so that you can keep the rhythm of the ashram.
• The gate will be locked everyday at 6 pm.
• Observe silence before morning pranayama class, after evening satsang and during food time. Kindly keep the lights out time which is 9:30pm.
• Do not bring any drinks or food items from outside to the ashram as this disrupts the schedule and diet suitable for ashram life. If you have any dietary requirements due to health reasons, we will do our best to accommodate your needs.
About Us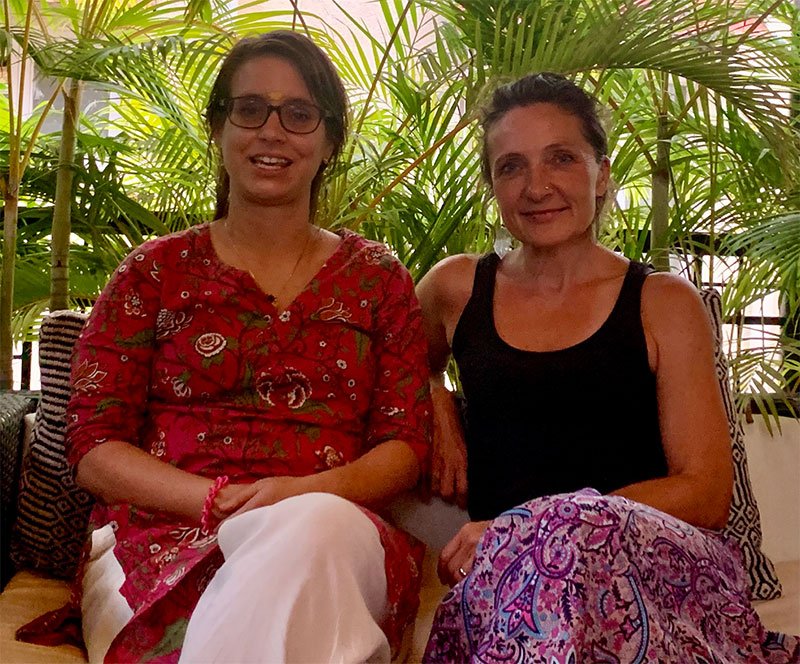 We both come from the Czech Republic. Apart from our nationality we both share a deep passion for India and her culture – HER as we feel she is a real mother – Mother India.
For Petra, yoga is a lifestyle and she can't imagine her life without it anymore. What was just asanas for her at the beginning, developed into a deep spiritual practice, both on and off the yoga mat.
Petra discovered yoga in 2004 in a yoga studio in Munich, Germany. Her yoga path started with powerful jivamukti yoga, vinyasa and hatha yoga and went to more calm yin and yoga nidra, sound healing sessions, meditation and to yoga therapy that she studied at Arsha Yoga and has been further studying yoga therapy in the tradition of Krishnamacharya ever since. . She is deeply connected to this place and loves to bring groups here. Petra connects these styles to harmonious sessions, where love, empathy and compassion have lots of space. Since 2017 Petra lives with her family in India where she tries to widen her yoga horizon by learning and teaching.
Besides her translation and interpreting studies in Germany, Marie Meera Karanath completed her two years yoga teachers` training course in 2006 and one year yoga therapy instructors' course in 2008. After gaining experience for three years as a yoga teacher in Germany, she has continued her teaching practice at Arsha Yoga since 2009.She is one of the teachers and the course coordinator of Arsha Yoga, at the moment also a full time mother. Her main passion is yin yoga, individual yoga therapy, kirtan, mantra chanting and woman's work. "Living in a different country teaches you to set your ego aside, to reassess your social and
cultural background, to come out of the cocoon and become a butterfly. This has to happen. My daugther, Gayatri, is the greatest teacher in this regard."
Weather:
Temperature stays steady all year round at around 30 degrees.
Things to bring:
Flashlight, toiletries, alarm clock, water bottle, cotton yoga mat (We don't use rubber mats as these tend to shed plastic pieces after some use. If you don't have one made out of cotton, you can buy one from us for a nominal price.), thin towel and laundry soap (both can be purchased from the
ashram), sun screen, hat, swim suit (for women t-shirt covering the shoulders and shorts down to the knees), mosquito repellent (beach area has less mosquitoes due to wind), passport and visa copy or Aadhar card needed for registration.
Please note that due to the persisting Covid situation, you will need a negative PCR test proof not older than 72 hrs upon arrival (vaccination is not sufficient). Thank you for your understanding.
Price
The price of the retreat differs according to the type of accommodation. Accommodation will be assigned on a first come first serve basis.
For Arsha Yoga there are 3 types of accommodation:
1. shared double occupancy with shared bathroom or tent for 15,000 INR
2. double room occupancy with attached bathroom 16,000 INR
3. Deluxe suite with attached bathroom, balcony and kitchenette 17,250 INR
The prices above include food and accommodation, both trips and all yoga programs for the whole 5 days of the retreat. You will need only pocket money for souvenirs or food outside the ashram.
Cancellation policy:
If you decide to cancel before December 21st, you will be charged an administrative fee of 500 INR only.
Until January 1st you will be refunded 50% of the price. No refund after January 1st.
Payment
If you decide to register, which is definitely the best decision that you could make, please click on the button ENROLL NOW below and make a bank transfer of the full amount to
Harilal Karanath, Acc.no. 12714100395096, ISFC code: FDRL0001271, Federal Bank, Vatanapally Branch, Kerala.
Arrival
Please plan your arrival for Tuesday, January 11th. The nearest airport is Cochin and the nearest railway station is Thrissur. Taxis from/to railway station or airport can be arranged.
Thank you and looking forward to all of you!