Yoga Psychology and the Immune System
This course gives an insight into the mysteries of the mind that Rishis (the sages) were able to see and describe. The knowledge of mind is present in all aspects of life – yoga, Ayurveda, music, dance, rituals, economics, social life or politics – and all such disciplines deal with the concept of mind only. This course is an attempt to collect the dissipated knowledge about mind and put it into a structure which is understandable to the modern mind. We will discuss about psychological hygiene. Yoga psychology analyses the deepest level of mind which is deeper than the sub-conscious as mentioned by modern psychology.
This course helps you to understand your mind and any mind-related issues common in yoga therapy. This course will also give a detailed training on anxiety and depression, stress management and strengthening of the immune system that becomes useful when treating autoimmune diseases.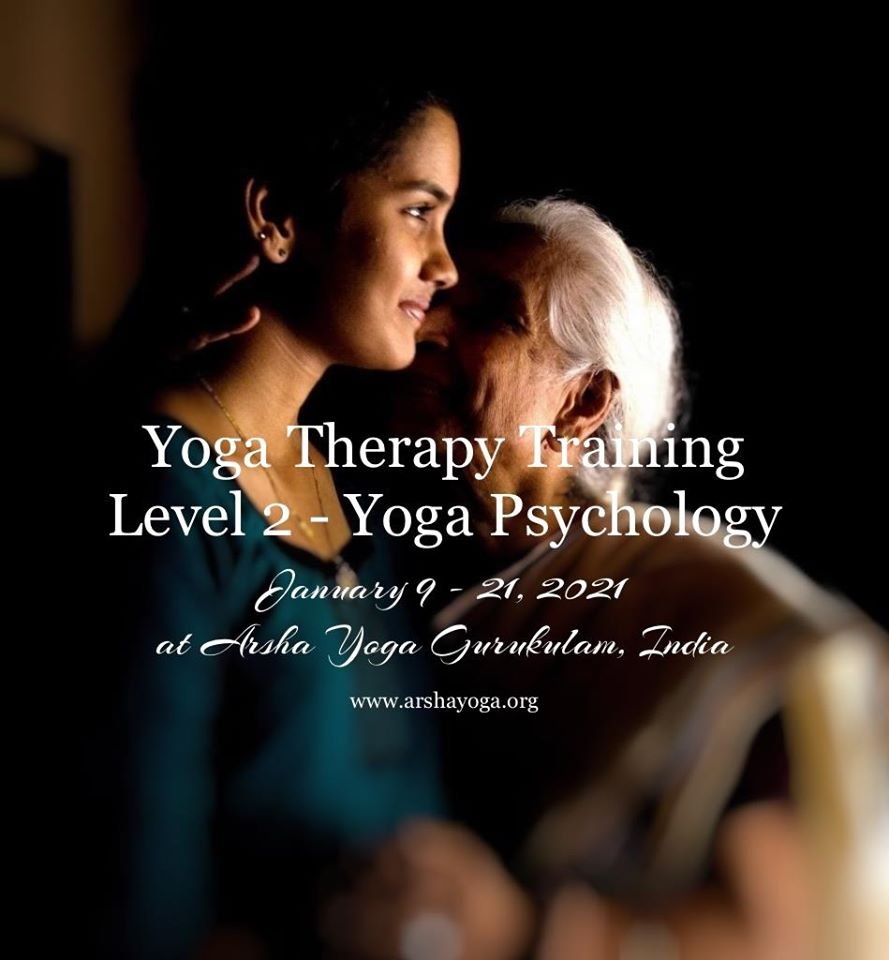 Curriculum
This training offers basic knowledge of yoga psychology:
1. relationship between body, mind and soul
2. the function of senses and mind
3. prana as part of the whole mind
4. four faces of mind
5. fundamental issues of mind, cause and its management
6. maintenance of psychological hygiene and mental health
7. Immunity and how to strengthen it
8. Auto immune diseases and their management
9. Stress management (including practice)
10. Management of anxiety and depression (including
practice)
11. Special techniques (yogic exercises for disease
management)
12. Mantra relaxation technique – a relaxation technique by
using mantra in a certain sequence (including practice)
13. Prana channelising – relaxation technique for the pranic
body by using our own mental power (included the
practice)
Daily Practices
There will be daily asana, pranayama, meditation and karma yoga practices other than the lectures and course topics.
Mantra
Learning to recite Vedic mantra and Bhagavad Gita.
Scriptures based in teaching
The knowledge of yoga psychology is spread into various scriptures. Some portion of the Bhagavad Gita and Yoga sutra will be taught with interpretation in the course.
Puja
Puja (traditional vedic ritual) will be performed by Brahmin priests.
Daily schedule:
6:15 – 7h: prata smarami (pranayama and meditation)
7:15: tea
08 :15 hatha yoga
10:15h: brunch
11:00 seva
13 h tea and snacks
14 – 16h lecture
16 – 18h yoga therapy special techniques
18:15h dinner
19:15h meditation, chanting or story-time
Off Day
There is one day off in a week. Students are required to attend morning and evening satsangs and to complete their karma yoga duties. The rest of the day is free for their personal study and activities. A day trip may be organised on request at additional payment.
Faculty
Harilalji:
Harilalji has been working in yoga therapy for psychosomatic and psychological ailments since 2002. His area of expertise is yoga psychology. He has the skill of explaining this ancient science of yoga psychology to the modern mind without losing its essence. In his lectures he differentiates modern psychology from yoga psychology in their approach of mind analysis without creating a contradiction. Harilalji has been conducting research in the field of Vedic psychology since 2000. Harilalji is currently studying under his guru Swami Bhoomananda Tirtha.
Claudia Göttling:
Claudia was born in 1978 in Germany. She has been practicing yoga since 2000. In 2009 she did her 2 yrs yoga teacher's training at Yoga Vidya in Germany. In 2012 she did yoga therapy training under the conduct of Harilalji. Ever since she has been assisting during his 1 month trainings in India as well as in Germany. Claudia's blog on yoga: https://claudiyoga.wordpress.com
Attendance:
Attendance in all activities is mandatory. Don't let your likes and dislikes affect your commitment to the course. Slight changes in the program may occur.
Prerequisite:
This course is intended for yoga therapists or yoga teachers with minimum 200 hrs certificate.
Certification:
Participants who successfully complete the course and pass the examination will get a certificate.
Yoga therapists will get certificate of yoga therapy level II and Yoga Teachers will get certificate of course completed.
PLEASE NOTE:
The teaching and schedule will be in a traditional Indian Gurukula system which may be different from what you have learned until now. All participants should be physically and mentally fit when joining the course in order to be able to feel and experience the wisdom of the ancient science of yoga.
In respect of the local culture and the ashram atmosphere, you are requested to comply by the ashram rules. Read the ashram rules here: www.arshayoga.org/contact
Accommodation:
The tent is a safari tent and very spacious placed in the tropical garden with a bathroom few steps away. The dorm is for 6 but can be divided into 2 separate rooms with 3 beds. The bathroom is nearby. Double rooms are with an attached bathroom.
You are welcome to book your stay 1 day prior to the beginning of the course to enjoy the serene atmosphere, get accustomed to the climate or to recover from your jet lag.
You can get more information and register for training at: [email protected]