WARNING: This article is long, even I needed the patience to write down my whole experience, but there is an urge inside of me to process these events of the last days now from the comfort of my seafront garden.
April 5 – day 1
This day we set off on our long-awaited journey to Bhutan, a Himalayan country, where there is no GDP (gross domestic product) but just a GHP (gross happiness product).
This is the only country in the world without any traffic lights and whose CO2 footprint doesn't exceed the O2 production as 78% of the country remains covered with dense forests. Medical care and education are completely free. To this day nobody, not even the Bhutanese embassy in Delhi, could give us a clear answer on our immigration status. From the Bhutanese government website of Tourism we knew that all foreigners excluding Indian and Nepalese nationals had to obtain a tourist visa from one of the authorised Bhutanese travel agents. The respective travel agent shall also plan a travel itinerary including all hotel bookings. The exact route plan has to be submitted to the immigration officers at the time of entry. The minimum cost for a foreigner per day staying in Bhutan is 250 $. We couldn't afford that but as both me and Gayatri were living in India and had our residence permits there, they could make an exception. As nobody was able to give us a clear answer in this regard, we decided to cross the border by land from the Indian side and see for ourselves.
On day 1 we took a plane from Cochin to Kolkata with a layover in Bangalore. We reached Kolkata late in the night and had our Airbnb accommodation reserved. Thanks to the exact directions of our host we reached our destination at first attempt. That is in India not always the case. After a good night sleeps in a Kolkata apartment obviously kept exclusively for rent purposes, we ventured out into the Indian metro city of 5 million people, the third biggest city in India after Delhi and Mumbai.
April 6 – day 2
First, we had to find a suitable restaurant for taking our bfast. It took us about 2 hrs and multiple Uber taxi rides until we found a decent veg restaurant serving bfast. You would think that during the time of "Uncle Google" getting lost is impossible. Well, all rules and patterns have exception in India. Telephone numbers and addresses are not up-to-date. Sometimes they are, but due to narrow and congested roads, even the taxi driver cannot find them. Next day we decided to make oats porridge at home 😉
In the evening at 8:30 pm, we caught an overnight train to the nearest railway station to the Bhutanese border called Hasimara. As our train tickets were on the waiting list, we had to count on a sleepless night. As we boarded the AC compartment, a side berth was allotted to all the three of us plus our 2 big bag packs. After an extended discussion with the TTE (train ticket examiner) who goes through the whole train and ticks off the names of all passengers on his never-ending reservation chart, Harilal got allotted with another berth. It is amazing if you think that 2 weeks ago you booked a train from the comfort of your home through the online ticketing system and then exactly 2 weeks later 3.000 km further north your name is stated on this particular piece of paper…Through how many software systems and human hands this information about one lady from the Czech Republic called Marie Karanath had to pass to reach its proper destination on time? Amazing!
April 7 – day 3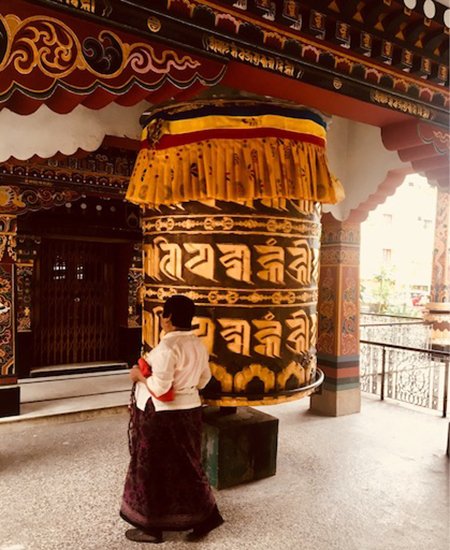 Reached the town of Hasimara at 1 pm as our train was around 1 hr delayed. The biggest "attraction" of this sleepy dusty town seemed to be the Indian military base… During our train journey, we got into a conversation with one of the fellow passengers who originated from this region of West Bengal. We got some basic information about the entry to Bhutan and the contact details of one of the local travel agencies operating from the Indian border town of Jaigaon.
After exiting the railway station at Hasimara we were flooded with taxi and rickshaw drivers just like flies stick to spilled milk. Instead of the habitual and often tiresome bargaining deal, we decided to take the local bus. Where is the bus stop? There. Which direction? There. Ok. Finally, a small bus with a grumbling sound approaches and we get in along with one older Swami. Our bags are packed onto the roof. "If you hear a thumping sound, we have to stop the bus. Those might be our bags", added Hari with a smile. 😉 After 30 minutes of a dusty and sweaty ride, shy winks of the co-passengers and lots of hooping, we reached the border town of Jaigaon. Ok, what now? We have to reach the local gas agency. That is the landmark to get to the travel agent's office. Hopping into a sharing rickshaw. Ended up paying 10 Rs more. No change. That's normal. No change, pay more.
We reach the gas agency and see our travel agent waving at us from the first floor of the neighboring building. "Foreigners need a visa for entering Bhutan", so was his verdict. But we have a permanent residence permit for India and we are living here. "Really? Ok. That's a new case. Let me check." This sentence accompanied us like a familiar mantra during the whole trip. We found accommodation in a classy hotel except that construction was still going on of the upper floors and the lift. This is also common in India where you can see 2 floors of colleges and hospitals operating already while upper floors are still being constructed. It's a good way to raise money for the final stage of construction, I guess. 🙂 In the evening we venture out to the Bhutanese side of the town called Phoentsling. I do feel like in a different world. No trash lying on the ground. No cows meeting with you faces facing on the street. Zebra crossings where drivers stop and let you cross. Please don't evaluate it at this stage. No good or bad. Just different. We reach a small park with a Buddhist temple in the middle. There are many people circumambulating the temple while chanting mantras as part of their evening prayers. There are many families with small children. Some look Asian, some Indian. Did you know that India has a common border with China and there people look Asian, even though they carry Indian passport? I feel comfortable in this country from the very beginning. Only later I knew its drawback.
April 8 – day 4
The previous night we found a Bhutanese travel agent who reassured us that we could make it possible to travel to Bhutan together and how wonderful his country was. His mouth was "bleeding" from chewing the pan. (Do you know this habit of chewing tobacco with betel nut and betel leaf? Have you seen red spots on Indian streets and in lifts? After chewing people spit it out wherever they are. This habit is common all over India except in Kerala, where it has been banned a long time ago. Is this why I live in this state? Hmmm. Anyway, yoga teacher or not, this habit highly disgusts me.)
So even though he belonged to the vampire clan, we also felt that he had a good heart, so we trusted his opinion as he had been in the tourism business for the past twenty years.
April 9 – day 5
Finally, Monday arrived with its fresh hope for departure in direction Bhutan. We are literally commuting the whole day long between Bhutan and India. Morning coffee from Bhutan, veg food from India. Our travel agent inquires about the possibility to travel on a permit just like Indians. Not possible. Very strict rules. If you don't have an Indian passport or Voter's card as a foreigner, you have to pay 250 USD per day, plus 40 USD consumer tax, so a total of 290 USD per day in Bhutan. Partially comforting might be the fact that this sum includes a taxi with the driver, all hotel charges and food. Now what? We traveled all the way to the Bhutanese border and now we return home? No way! Let us go for at least 3 days…. And what about Gayatri? Does she need to pay as she holds a foreign passport? The travel agent reassures us once again that she doesn't need any extra travel documents for Bhutan as she is only 4 years old. So we go ahead with the application – Harilal as the citizen of India receives his permit immediately without any fees. I have to wait several hours for the permit to be processed through the capital of Bhutan called Thimpu. Finally, we pay around 1.000 USD and I get my permit for 3 nights.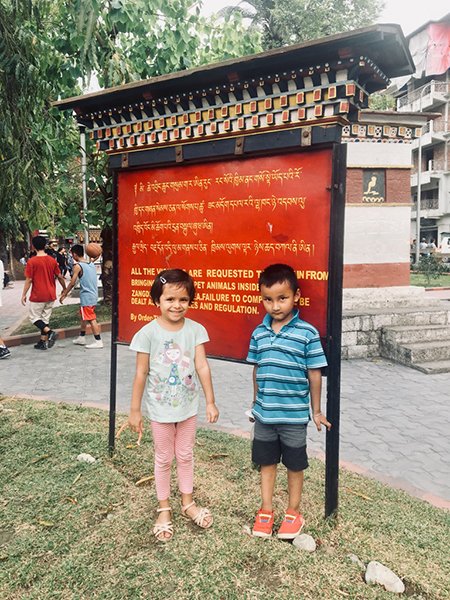 Gayatri, on the other hand, is denied entry to Bhutan as she is a holder of foreign passport and she is fined by the immigration officer for illegally crossing the border. The fine is 25.000 INR and we have to reapply for her permit as a foreigner that costs one time 40 USD for children up to 5 years of age. Bhutan's main income is from selling energy to India and from tourism. By keeping this restricted entry for tourists, they are able to maintain their traditions and provide free medical care and education. This whole procedure is taking a lot of time and energy. This is the third day we are spending in the dirty border town of Jaigaon.
April 10 – day 5
We spend full day at the Bhutanese immigration office trying to get Gayatri's visa sorted. Lots of paperwork, lots of time spent in the sun waiting. Gayatri is getting tired. She is allotted her permit from the next day, April 11th, while mine was allotted from April 10th already, so that we wasted one day of travelling and money. "Never mind! It is as it is! Let us enjoy the upcoming 3 days in Bhutan", we thought.
April 11  – day 6
Gayatri develops a slight fever in the night. I am getting restless as I know her medical history. Whenever there is a small sickness, we have to be careful as her immune system is weak. Morning I tell my concern to Hari that maybe we should turn back. Might have been my mother's intuition…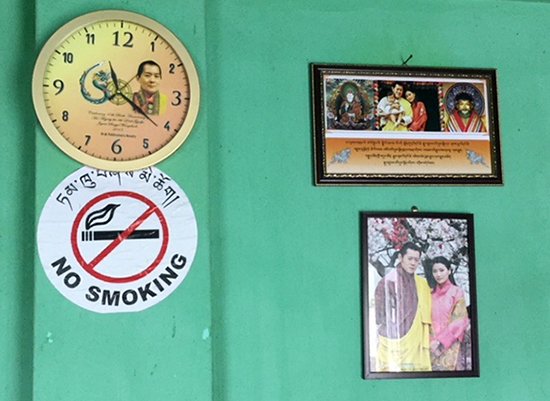 Before our travelling can start we have to go through some formalities again – first getting an exit permit from the Indian officials and then an entry permit from the Bhutanese side. The Bhutanese office opens only by 9 am. All paperwork is processed by 10:30 am and we set off on our journey together with our local guide Tashi. The mountain scenery is beautiful and we start a steep 5 hour ride up into the mountains in direction of the capital, Thimpu, which is 2.500 m above sea level. In many places like shops and restaurants along the way, you can see the picture of the present king and the queen.
They are being worshipped by the Bhutanese people as semi-gods. Gayatri is sleeping throughout the whole journey and refuses to take food, she takes only water. I become concerned and upon arrival in Thimpu, we directly go to the hospital for check-up. All her parameters are fine. Doctor's diagnose: tonsilitis. He prescribes antibiotics and paracetamol for fever. "Ok, with antibiotics she'll be fine. We keep it easy and in a few days she will be up and running," was my initial thought. Still, as a precaution, we decide to shift our flight to an earlier date and fly from Bagdogra airport, the nearest airport to Bhutan in West Bengal, on April 14th.
April 12 – day 7
Fever comes and goes. Gayatri eats only a few spoons of oats porridge and water. In the morning Hari starts suddenly screaming with pain in the abdomen. I have never seen him in such a condition. Immediately, I call our taxi driver to bring him to the hospital. Anyway, medical care in Bhutan is free… Alone in a hotel room in Bhutan with a sleeping sick child and a husband in pain in the hospital, I am watching the chilled wind blowing through the dusty streets of Thimpu. I feel like one of the characters in a novel. But this is not fiction, it is my own reality. The outside temperature is about 10 degrees and drizzling. After a few calls back and forth with our driver Tashi, I get to know that the pain has subsided after 3 injections and that it might have been a minor kidney stone that was being flushed out. "Thanks god, I really need Hari's support now, when Gayatri is sick." Gayatri is still not well and we decide to stay an additional night in Thimpu.
April 13 – day 8
In the morning after bfast we head towards the neighboring town of Paro, where there is the famous Buddhist monastery called Tiger's Nest. Hari encourages me to climb up and that he will wait down at the base with Gayatri. I agreed as returning to Bhutan for 290 USD per day won't be an option again. Half way up I climb on a pony. We start at 11:30 am. It is a steep climb where at times I am praying that the horse knows what he is doing and looking up rather than looking down. After 1 hour ride on the horse, I have to continue 1 hr more on foot. I have my own doubts: "I am not much trained for steep climbing and my stamina might not be high enough. Ok, so you stop half way and return." Do you know this familiar voice in your head that tries to blame you and discourage you? Just don't give in.

I started climbing. The Buddhist mantra – om mane padme hum – starts resonating in my mind and I stop feeling my aching legs and I am able to feel the space beyond the body and mind. I am thinking about including more hikes to spiritual places during our Indian journeys and retreats (agreed Pradhipaji?) "Ok, this is easy, this must be the end," I think as I am nearing a cliff. Then I see the real thing. There is another about 300 steep steps leading to the monastery. Ok, never mind, more. Repeating my mantra and climbing. Reached the monastery after about 1 hour of a steep climb. I take a seat on a wooden bench and meditate in the mountain sun. I can't believe I am sitting in Bhutan on top of the world. Even if this whole trip has been difficult, this one climb becomes a memory of a lifetime and I am mentally thanking Harilal for letting me make this experience. I reach back to the base at 4 pm.
During my climb, I forget all my concerns about Gayatri's health and now they are slowly sneaking in. She greets me with a smile and I have the feeling that she's doing better. For lunch, she ate a few spoons of oats porridge. In desperation to make her eat, we buy a chocolate cake for her. No, sorry, Harilal buys a chocolate cake for her. 🙂 We set off in direction of the Indian border as my visa expires that evening. We are again reassured by the travel agent that there is no time limit for reaching the border and receiving the exit stamp. Gayatri sleeps throughout the whole drive (5hrs) and has a slight fever and also cough. For a few days, she has been refusing to walk and we have been carrying her. Arrived at the Indian border at 10:30 pm. The taxi cannot cross over to the Indian side. We have to unload our luggage that Hari carries and I carry Gayatri over to the hotel on the Indian side.
April 14 – day 9
In the night Gayatri gets a high fever and I become worried. I wake up Hari at 3 am and tell him to find a hospital nearby. We don't know anyone. We have to get to the hospital by taxi. Taxi tries to rip you off. I don't care, I want a medical check-up for my daughter NOW. We wake up the hotel management and ask for a taxi. The taxi arrives and takes us to the nearest decent hospital that belongs to the Indian air force and is 20 km away. After a thorough security check from a guy carrying a machine gun, we are let in into the hospital compound. A sleepy officer comes out and leads us to a treatment room. Without checking Gayatri, he diagnoses her with viral fever and gives different antibiotics and tells to continue with paracetamol. I am a little calmer but still, a bitter aftertaste of the visit remains… "Why didn't they listen to her breathing or check the throat at least?" She has been taking paracetamol and antibiotics for 3 days and her health hasn't improved much. I felt something was wrong. Especially I know the health of my daughter and I know that she reacts to western medicine very fast….
I wish to leave to the Bogdagra airport at the earliest to ascertain a smooth taxi journey for Gayatri. Our flight is at 4 pm. In the morning we have to get the final exit permission from the Bhutanese immigration. I am carrying Gayatri on my shoulder across the border and into the office. The two officials are sitting behind their counters with expressionless faces while I know that the time is running up for the health of my daughter and want to speed up the check out process. "Mam, there is a problem, because you exited the country last night without getting the stamp. We have to call a higher official." This seems like an unreal nightmare and I start crying. I want to see the higher official and I cry in front of him that my daughter needs medical care (while I know that the proper medical care is 5 hrs drive away). "Maybe my drama scene will help my daughter", I thought. But the official looks at me without any mercy and says that we must pay a fine. "Noooooooooooooooo", my heart cries out louder than my thoughts. I have to go out to calm down while Gayatri is still hanging over my shoulder. I cannot think anything else than getting Gayatri to the airport in Bhogdagra and then to the nearest hospital in Kerala.
We leave Jaigaon only by 12 pm. According to our destiny or karma, we reach the airport only 10 minutes before the plane's scheduled departure and we are not allowed to board the plane. Immediately I thought: "maybe, fortunately! Where is the nearest good hospital?" Ok, only 7 km away. Prepaid taxi and go! Never mind the missed flight and the money! The taxi ride seems endless, stuck in traffic. I am ordering the driver in Czech and crying. He understands the seriousness of the situation and tries his best to get us to the hospital at the earliest. We get down at the reception, Hari with bags, me with Gayatri over the shoulder. "Where is the casualty?" I am screaming at the security guard. Poor man! Heading to the emergency admission. I put her down on the bed. "Doctor will come in a minute," I hear from a distance with the blurry vision from my tears filled eyes. How long can a minute be? "Is this an emergency unit, so that you take so long for the doctor to come?" talking in an irritated voice to the nurse. The doctor finally arrives and checks her breathing. Gayatri receives oxygen and nebulisation. It is a junior doctor on duty and she says there is no major issue. We stay in the hospital overnight. We book into a deluxe room which looks far better than any hotel we had stayed at until now. I and Hari joke about it and get relaxed being in the safe hands of the medical staff.
April 15 – day 10
In the morning the pediatrician arrives. Gayatri is put on IV antibiotics and a drip since she hasn't eaten properly in days. Her oxygen saturation in the blood is low. Time is passing fast…
During the next visit, the doctor announces that we have to move her to the ICU due to some other serious cases with similar symptoms. "Is it a matter of concern?" I ask the doctor. "Yes, it is." My heart drops..… Only one person can stay with Gayatri at the ICU. Without hesitation, we decided that it should be me as Gayatri doesn't accept any other person when she is sick. The communication with the nurses is not easy as they all speak mostly Hindi and only a little English. Fortunately, most nurses are from Kerala, so I can make my point in Malayalam. At the ICU the regime is strict. Entry only with a mouth mask and a special gown. The vitals are monitored by the hour. Fever subsides, but Gayatri suffers from a severe chest infection – viral pneumonia. This is the day, that I inform my parents that Gayatri has been admitted to hospital. I blame myself for allowing this to happen one more time after the similar experience that we had in Cambodia in October last year. A mistake becomes a mistake when it happens twice and this happened for the second time…
April 16 – day 11
Gayatri's health is not improving according to the high dose of IV antibiotics and her oxygen level is still low. No fever. "Let us see", the doctor says. I am 24 hrs vigilant as Gayatri cries by every look at the nurses in white. Her one arm has a drip, and taking blood from the other arm. I am surprised where I get the energy from to withstand all this. Hari develops fever and cough and cannot come in. "We have to make it. I cannot get sick."
April 17 – day 12
The doctor expresses his concern that we might have to shift her to a higher institution in Kolkata or Delhi. My heart sinks once again. How shift? By road? That's impossible! Through the bumpy and hot roads, it will take at least 8 hours to Kolkata and much longer to New Delhi. If we have to shift her than it will have to be by air ambulance. Gayatri refuses food and fights and kicks me. I remain calm for my baby. "Some time ago, we had a foreign couple here with 2 children of similar symptoms, where one died. There is a chance of bleeding into the lungs and then we cannot save her," utters the doctor. Can my heart sink any deeper at this point? The longest night of my life is about to start. On one hand, I ban myself on giving up hope, on the other hand, I am planning Gayatri's funeral and the way her death will affect mine and Hari's relationship. I start chanting mantras. Gayatri doesn't react to my words, but she becomes calm while chanting. One nurse asks me: "Are you a Christian? No. A Hindu? No. Do you believe in God because you SHOULD start praying…." So I do it in my own way. Mantra, the tool that sets your mind free. I truly recognise its effect in this situation. I become calm and can get at least a few hours of semi-sleep.

April 18 – day 13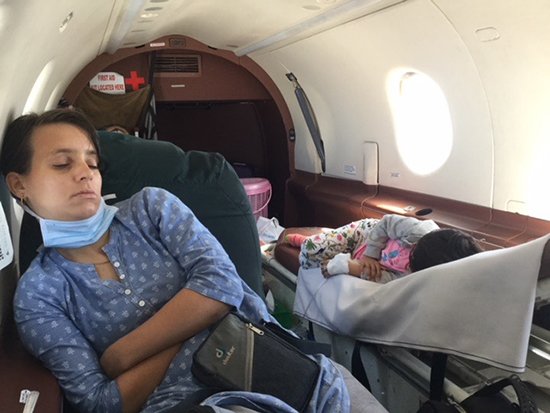 Gayatri screams and fights which I see as a good sign that energy is coming back and she asks for a watermelon. This seems like Christmas or a  Birthday celebration! I am that excited! At that moment I know that she has decided to live. Still, we decide to shift her by air ambulance to New Delhi. I love this about India and the strength of the Indian family. Within the course of a few hours, a half-million rupees were transferred by Hari's sister, so that the air ambulance could arrive at the earliest along with a doctor on board. Just last year we decided NOT to include Gayatri in our medical insurance…..Damn! But money is secondary. Let's get her safely and fast to the hospital in New Delhi.
I arrived at the AIIMS hospital at 5 pm at the emergency unit. What a sight! Two or more children occupying one bed. Needles and medical instruments lying around. There is no time to clean up properly with so many people flooding in. Somewhat a shock when you shift from a private hospital to a government one. "But treatment should be the best here," I keep repeating to myself. After the administration staff told us that there is no free bed for Gayatri and some strong convincing, we manage to get a bed at the semi-ICU ward. Again only 1 person can stay with Gayatri. In-between Hari's sister had arrived from Cochin and is helping with the administration and arrangement of food as food is not provided in Indian hospitals. I am on 24 hrs watch beside Gayatri's bed. Again they are taking many samples of blood where Gayatri's crying and I have to squeeze her hand to get sufficient blood for a sample. I become resistant to pain day by day. I know we have to go through this to restore her health. We are at the oncology ward surrounded by children in the terminal phase of cancer. I realise that our problem is nothing compared to theirs.
April 19 – day 14
More chest x-rays, more blood tests. Gayatri's liver seems enlarged – abdomen scan. Time passes quickly. I cannot recognise if it is day or night outside. Getting home made food delivered by one of my friend's sister who lives in Delhi. Again this is what I love about India. Human values prevail over money. The left over food I offer to the mother next to me who feeds her child with some food out of an old dirty newspaper. Her husband sleeps outside the hospital on the sidewalk, nowhere to go. They have probably traveled hundreds of km from their village to find treatment for their daughter. I give Gayatri's doll to her. Sometimes her mother goes away for hours and the child cries looking towards the exit. That time I go over to her and caress her bold head and sing mantras. She speaks only Hindi, but the language we both speak is universal.
All of Gayatri's reports tend to confirm the diagnosis of pneumonia.
April 20 – day 15
Gayatri starts asking food. Her oxygen level is still low and requires oxygen supply. She lost a lot of weight and I have to carry her to the toilet. I don't take shower as the hygienic conditions of the bathroom are quite poor but toilet uses we cannot avoid, right? The doctor tells us every day that her recovery will take 2-3 more days as her nature is allergic and asthmatic and that prolongs her curing. The roles of all caretakers have been divided: I am on ward duty, Hari is put on outside matters duty and Hema is on hospital paperwork duty. Yes, truly it keeps a whole team fully busy the whole day. There are no hotels in the immediate vicinity of the hospital so that Hari and Hema have to travel 3 km each time to reach their hotel room.
April 21 –  day 16
High standard private rooms are available at the hospital. We try to apply for one. Again the related paperwork takes a full day of errands. At the end of the day, Hari and Hema can move into the private room at the hospital premises.

April 22 – day 17
Gayatri starts sitting up, playing and commenting on her surroundings. I know that her curing is a matter of a few days. I want to speed up her discharge process as our flight ticket to Europe is scheduled for April 26th. At the same time, I realise that it is not realistic and that I should not risk her health once again. I postpone our flight to May 2.
April 23 – day 18
We all shift to the private room, where nurses attend the patient. As Gayatri's condition is stable, Hema decides to fly back to Kerala the next day. The private room is only for 2 people anyway. That night I sleep in the bed with Gayatri, Hema on the bystander's bench and Hari on the floor. 🙂
April 24 – day 19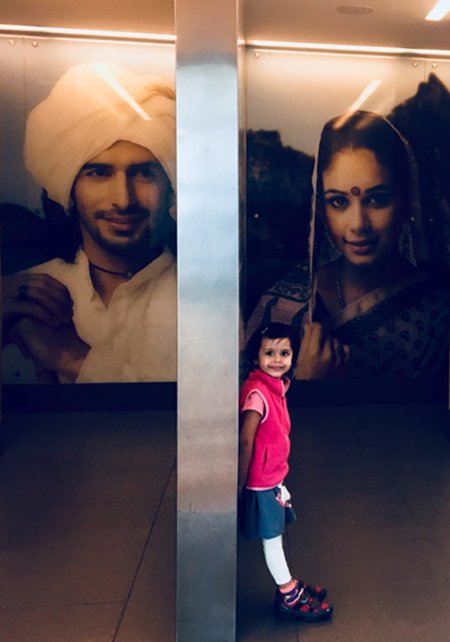 Hema flies back home and Gayatri allows me to leave the room occasionally for me to sneak in a cup of coffee for which I travel one metro stop. In the morning hundreds of people queue up in front of the hospital to receive treatment and others camp on the sidewalk in front of the hospital gate. If they are not sick until then, they become sick within days spent like this. But what to do? Nobody else to turn to for them? Some free food distribution is going on on the street by a Delhi-based NGO, where rich people volunteer to serve the poor. Can you imagine this in the west? A lady with diamond earrings reaching out to the dirty bony hands of a beggar? In the evening after multiple phone calls and my personal visit to the supervising doctor, we got a final answer about Gayatri's discharge that will be the next day.
April 25 – day 20
We reach our home in Kerala at 11:30 pm. We just had the best experience on an Air India flight by the way. Why are people complaining so much about Air India?
being a mother is the greatest of gifts
MM
https://arshayoga.org/wp-content/uploads/2014/08/2hOMzD6SuaeNjMglUZX3g_thumb_ad4f-246x300.jpg
300
246
Arsha Yoga
https://arshayoga.org/wp-content/uploads/2019/10/arsha_yoga_logo.png
Arsha Yoga
2019-04-28 18:56:26
2020-10-15 23:05:17
When One Night Seems Longer Than Your Whole Life