One thing I realised during the past 9 years of dedicated work as a co-founder of an ashram and a yoga therapist and what I call "ashram police". No matter how long the list of the ashram rules and regulations is, there is always someone who will be an inspiration to make a new one, if you know what I mean 😉
Some people refuse to wear the training uniform altogether. Some make their sleeves and trousers shorter and shorter every day.
Others try to get friendly with the kitchen staff to close favorable deals later or escape outside of the gate even after the night fall. As you can see, the eyes of a teacher have to be everywhere. One saying says: "There are two kinds of people who don't sleep at night – the thief and a yogi." I would like to add a third one – yoga teacher running intensive training. 🙂 And yes, it is a myth that yoga teachers have perfect bodies and never fall ill. They also have their problems and stress. Still, they commit for one month to be there for the students truthfully in every aspect of their training. Sometimes it means to be strict, but not out of anger but out of empathy. For example, it is very important during the practice of the Shatkriyas (cleansing techniques). People shouldn't express any negative feelings towards the practice as it will negatively influence others. Also, they should follow the instructions without fail. Sometimes it means to repeat the same instruction 5 times. "If you feel that you cannot drink more water, drink more. I can't. Yes, you can. Drink more!"
My colleague and yoga therapist, Claudia Göttling, inspired me to write this article when I saw her yesterday morning full of dedication running for more cups of water to assist the students during their morning Kunjal kriya practice (one of the six cleansing techniques, where you drink as much saltwater as you can and then bring it all out).
During a 4 weeks intensive yoga therapy training, you are likely to encounter one or more challenges as a yoga teacher and a trainer that make you realise which qualities are the most important, that a yoga teacher, trainer or any coach should have.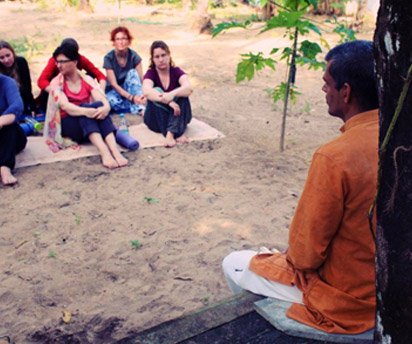 Therefore, the golden qualities of a teacher are:
1. empathy: feel empathy with the student, NOT sympathy. Try to put yourself in the situation of the other person, but keep inner distance. Don't get entangled into the problems of the other person.
2. pratipaksha bhavana: this term is used in the Yoga Sutras and literally means "moving to the other side of the mansion". Among yoga practices, it means to move the mind from the negative to the positive by cultivating the opposite thought. In the context of a teacher-student relationship, it means to be able to think from the student's angle and pick them up from their present level of knowledge and experience and guide them further.
3. patience and detachment: we need the patience to tell the same thing all over again. How often our mind is not present, then how it will be of a normal student. The mind becomes receptive to the same thing at different times. Detach from the idea of success and "good teaching". Sometimes your teaching will bear fruits, sometimes not.
"bear insult, bear injury": Swami Sivananda once said: "bear insult, bear injury, highest yoga." The longer I teach, the more truth and depth I find in this statement. You shouldn't get disappointed or discouraged just because your students are not satisfied or don't profit from your teaching. Forget it and resolve to go on.
I bow to all teachers who have dedicated their sincere efforts to uplift the mind of their students.
-MM-
Photo credit: Sarka Konecna
https://arshayoga.org/wp-content/uploads/2016/05/courses_india.jpg
344
412
Arsha Yoga
https://arshayoga.org/wp-content/uploads/2019/10/arsha_yoga_logo.png
Arsha Yoga
2018-02-14 18:48:06
2020-10-15 23:05:30
Golden Qualities of a Teacher