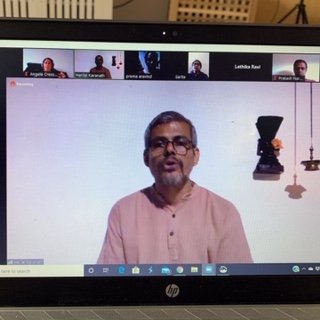 Join us weekly, as we connect live with Meera and Harilal of Arsha Yoga in India, the home of our yearly ashram retreat.
Learn to chant to soothe your emotions, meditate and more! No experience necessary, just bring an open heart and mind.
We will stream live on Facebook and Zoom. Joining details to be added closer to the event.
This is a free event, but donations to Arsha Yoga are welcomed and encouraged via PayPal [email protected] Suggested donation £5-10. Please do not let money be a barrier to you joining us.
General guidelines for using ZOOM:
1) Install Zoom app and add your profile picture & name in your zoom account.
2) Please arrange your space ready and set up the connection at least 1 hr prior to the session time, so that we can start smoothly all together. Also ensure that you are online 5 minutes before the opening time. Once meditation starts, you may need to wait till meditation finishes.
3) Attend satsang from a silent and closed room for full involvement.
4) Either sit down on a yoga mat or sit on a chair without back support with your feet resting on a mat comfortably.
5) Mute your microphone unless you have any questions. At the time of question, you may give a sign.
6) Send a text on zoom if any disturbance or low volume occurred from our side.
Thank you and we look forward to seeing you in the virtual world.