The word Āyurveda means the science of life. Yoga and Ayurveda are related as sister disciplines. Both are based on deep wisdom and knowledge that were acquired during meditations performed by sages thousands of years ago. A famous Ayurvedic doctor once said: "Ayurveda does not add to years to life, but life to years". Ayurveda can be divided into two sub-disciplines – Svasta Vrtam and Ādhura Vrtam. Svasta Vrtam is the lifestyle part and Adhura Vrtam the treatment part. In this course the focus lies on everyday lifestyle tips, so that you won't ever need to make use of the Adhura Vrtam part. 🙂
This course contains the basic theory of yoga and Ayurveda applicable to everyday life as well as a practical learning of basic ayurvedic body care such as oil massage and ayurvedic cosmetology.
CURRICULUM:
Daily practices
There will be daily asana, pranayama, meditation and karma yoga other than the lectures and course topics.
Mantra
Scriptures based on teaching.
Puja (traditional Vedic ritual)
Puja will be performed by traditional Brahmin priests.
Daily schedule:
5.30 am: Saucha (daily simple cleansing techniques)
6.30 am: Prata smarami (pranayama, meditation)
7.30 am: Tea
8.30 am: Hatha Yoga
10.30 am: Brunch
11.00 am: Seva
2-5 pm: Lecture and/or practical session
5-6 pm: Free time
6.15 pm: Dinner
7.15 pm: Satsang
Off-Day
There is one day off in a week. Students are required to attend morning and evening Satsang and to complete their karma yoga duties. The rest of the day is free for their personal study and activities. A short trip may be organized on request at additional payment such as boating through the silent backwaters or a local temple visit.
Attendance
Attendance at all activities is mandatory. Don't let your likes and dislikes affect your commitment to the course. Slight changes in the program may occur.
Main lecturers:
Harilalji Karanath of Arsha Yoga

Born 1970, comes from a traditional family in Kerala, South India. He was born and brought up in a traditional Indian environment with agriculture, Ayurveda, Vedanta and Yoga. After attaining the title 'Yogacharya', he lived and taught yoga in Sivananda Ashram in Kerala, Delhi, and the Himalayas. Later he studied and practiced yoga therapy at sVYASA -the university for yoga- in Karnataka and completed a full-time diploma course with an 'A' grade. The subject of his thesis was 'Integrated approach of yoga therapy for psychosomatic diseases'. Curious to experience the western culture, which was the background of most of his students in India, he came to Germany for the first time in the spring of 2001 and continues to visit Europe ever since. He gives seminars and courses on Yoga Therapy, yoga psychology and yoga philosophy in the Czech Republic, Bulgaria, and Germany as well as individual yoga therapy. He is also a Yoga acharya /Therapist in Nangelil Ayurveda Medical College near Ernakulam in South India. Harilalji is currently studying under his guru Swami Bhoomananda Tirtha.
Dr. Nil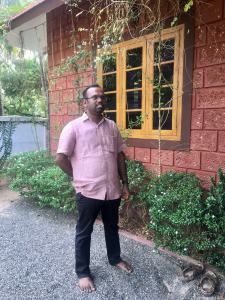 Dr. Nil Venugopal is an enthusiastic Doctor practicing the ages-old Indian medicine branch, Ayurveda. Dr. Neel obtained his Bachelor of Ayurvedic Medicine and Surgery (BAMS) from the famous University of Kannur in Kerala, a state of India.
Dr. Nil is noted for his combination therapy of Marma (Vital Point), Yoga and Ayurveda. His exposure to the world-famous Kalaripayattu (martial art having roots in Kerala) and formal training in modern physio-therapies has strengthened his capacity as a sports-medic as well. Dr. Neel was one of the hand-picked support medics for world-class athletes during the 2010 Commonwealth Games at Delhi.
Dr. Neel is currently a chief physician at Theertha Ayurveda clinic, Chavakkad. Apart from his daily routines, he is involved in exploring the depths of Ayurveda and researching the therapeutic and medicinal aspects of various herbs and plants.
(www.ayurmarmam.com)
Dr. Babitha
PLEASE NOTE: The teaching and schedule will be in a traditional Indian Gurukula system which may be different from what you have learned until now.
Following the ashram rules as well as respect the local culture is mandatory. Read the ashram rules here: www.arshayoga.org/contact
You are welcome to book your stay 1 day prior to the beginning of the course to enjoy the serene atmosphere, get accustomed to the climate or recover from your jet lag.
Accommodation:
The tent is a safari tent and very spacious placed in the tropical garden with a bathroom few steps away. The dorm is for 6 but can be divided into 2 separate rooms with 3 beds. The bathroom is nearby. Double rooms are with an attached bathroom.
You can get more information and register for training at: [email protected]