Life doesn't fit in our yogamats!! We need to extend our Yoga to the Life!! Kalariyogam is created to transform person into a level where his physical, emotional and intellectual levels are strong and balanced ,so that he can live the very life in its intensity.
All his qualities will enhance not just on the yoga mat, but on the life itself. It is a balanced combination of Hatha yoga, 'Kalarippayattu' and 'Tantra' created by Kuttu by acquiring and seeking knowledge and suggestions from various spiritual gurus and yoga Āchāryas from India.
Hatha yoga is a yogam of stillness in pranic level, Kalarippayattu is yogam of dynamic prana and Tantra has a perfect way to combine both these yogams and implement it in life. When these systems combined with proper understanding Kalariyogam turns into an absolute yoga system for present world.
Course details:
A retreat to give a wider and clearer understanding about yoga system and to transform the practitioner to a certain level, so that he experiences the pranic world. The retreat follows the traditional path of hatha yoga., using the tools from kalari and tantra to enhance the pace and to make use of it in the daily life of the practitioner.
Practical sessions of kalariyoga Retreat are mainly designed to make the practitioner to move from 'āsanas' to the next level 'prānayāma'. It is merely breathing excercises that are often being practiced in the name of prānayāma. To be able to do prānayāma one should feel the prāna in its' totality. 'Prānadhārana '( the ability to maintain total awareness on prāna) should be maintaned. This is our aim. Our lectures compose of the philosophy of Hatha yoga and other traditional yoga systems. Philosophy means the root map with clear explanation, instruction and information of very path each practitioner is supposed to move on. Transformation is prior to the philosophy. It is direction of practice, rather than mere intellectual information.
Daily schedule
6:15 herbal tea
6:45- 7:15- meditation
7:30- 9:30- Hatha yoga with pranadharanam
10:00- brunch
11:00- 12:30 – lecture class on hathayoga philosophy and kalari, tantra spiritual philosophy
12:45- 13:15- yoga nidra, prana dhyana, ayurveda lifestyle etc
13:15 – tea and snacks
13:30- 16:00- free time
16:00- 18:00- Kalari Yoga practical class
18:30- dinner
19:30-20:30- satsang, bhajans , fire ceremony etc
21:00 –  lights off
Teachers:
Nithin (Kuttu)
A spiritual practitioner in all aspects
Started learning yoga from the age of 10 from swami goraknath. Started staying in agastya sidha yoga ashram and started teaching yoga from the age of 16. Also been practicing Ayurveda during this period.
From the age of 19 started traveling and teaching in different places inside and outside of India.
Learned and practiced under many yoga and philosophy gurus)
Learned rajayogam and tantra philosophy Learned kalarippayattu from paramu Ashan memorial kalari and also from different schools. At the age of 25 formed 'kalari yoga' a balanced combination of hathayoga, kalarippayattu and thantra. And been teaching it in Moscow and India since that.
National champion of kalarippayattu in years 2018, 2019.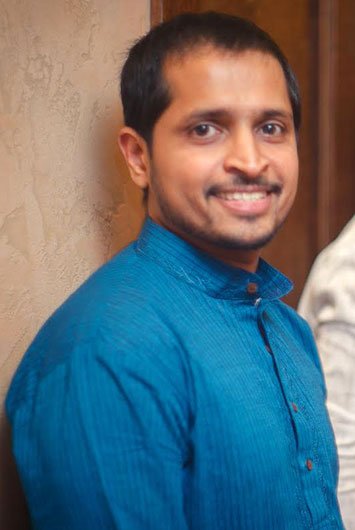 Sudarsh
Spiritual teacher with in-depth knowledge.
Sudarsh is a spiritual teacher with in-depth knowledge in different schools of Yoga, Yoga Therapy, Tantra shastra, Mantra Yoga, Vedanta ,Vedic chanting and Yogic diet. He was born and brought up in a traditional Brahmin family in Kerala, South India. From childhood itself, Sudarsh was inclined to spiritual practices and mastered tantric rituals such as pooja, homa, mantra shastra and vedic chanting.
After finishing his graduation in English literature he decided to dedicate his life completely for learning and sharing the knowledge of Yoga and Tantra.
First, Sudarsh finished his four years of intense yoga and yoga therapy studies in a traditional Gurukula system under the guidance of Acharya Harilalji at Arsha Yoga Gurukulam www.arshayoga.org and continued his spiritual journey at Sivananda ashram (Madurai), the Divine Life Society (Rishikesh), Vippasana Meditation (Dehradun) Sivananda yoga Vidyapeethom (Kerala), and completed his training in Yin yoga. Sudarsh Learned and practises an effective system of yoga therapy  under the guidance of Yogacharya Chandran master who is the founder of Bodhanada yoga, he is initiated into an auspicious system called "sreevidyasampradaya "
(worship of mother goddess) from his Tantrik guru M.T Viswanathan considered to be the ultimate teaching in Tantra.
Reservation and payment:
Introductory price special!: 500€ for share accommodation (4 beds), 550€ for twin accommodation
For reservation and deposit payment details kindly contact Kuttu directly at [email protected] to pay the non-refundable deposit of 150€ through Transferwise www.transferwise.com. From our experience, this is the safest, fastest and cheapest way to transfer money to India.
For the balance payment, please don´t rely on ATM withdrawals in India, as ATMs are often out of order. Also international bank transfers are not secure. We have made such experience in the past. India, in contrast to other countries, has no IBAN. Money, which are sent sometimes don't reach their receiver.
Due to all these reasons,  please bring your balance payment in EUR/USD in cash right from your country! Thank you.
Venue:
Arsha Yoga Gurukulam has been founded by Meera and Harilal Karanath whose aim is to make traditional Vedic knowledge and lifestyle accessible for a modern mind. Arsha Yoga Gurukulam is located in silent beach of central Kerala in Thrissur District, where traditional knowledge of yoga, Ayurveda and Vedanta is being impaired.
The Ashram provides two simple vegetarian Ayurvedic meals per day that suit the learning and practicing of yoga and two times chai and snacks.
We take effort to provide homegrown organic vegetables and fruits from our garden to the guests. What we eat, we serve also. We do not use any chemical detergents such as washing powder or cleaning detergent. Our main home makers are vinegar, baking soda and soap nuts. Even though the soil is mostly sandy, since some time, our garden doesn't need any extra fertiliser, as we use the mixture of cow dung from our Parvati and compost waste. We can proudly say, that you cannot find such a green land anywhere along the beach stripe.
Arsha Yoga Gurukulam is a plastic free zone. Whatever plastic you bring, please take back with you also.
Experience authentic local living with an international family flair.
In respect of the local culture and in consideration of the ashram life please comply by the following ashram guidelines:
Alcohol, drugs, smoking and non-vegetarian diet (meat, fish or eggs) are prohibited during the ashram stay.
Long pants and t-shirt covering the shoulders are required for the ashram stay. Tight fitting and transparent clothing should be  avoided.
For swimming, women are requested to wear shorts down to their knees and a t-shirt covering the shoulders.
In respect of the local culture kindly restrain expressions of affection (like hugging or kissing) in public.
This is plastic FREE zone. If you bring any plastic bags or bottles with you, please think of packing them with you when you leave
Mosquito nets, first aid kit, boiled water are provided and eco-friendly washing soap can be purchased from the ashram.
Be punctual in schedule, so that you can keep the rhythm of the ashram.
The gate will be locked everyday at 6 pm.
Observe silence before morning pranayama class, after evening satsang and during food time.  Kindly keep the lights out time which is 9:30pm.
Shoes, and to a lesser degree, feet, have unclean associations. Shoes are not allowed in any of the ashram buildings, especially in places of worship and dining. Shoes should be left neatly in the spaces provided. Avoid pointing your feet at the altar or teacher as this is considered disrespectful.
In India, as the left hand is generally used for personal hygiene, one should avoid using the left hand when interacting with others. In our Indian ashrams, meals are served in the traditional manner by sitting on the floor and eating with the right hand. It is considered rude to offer anything or serve food etc. with the left hand. Eat, give and receive (especially food and prasad) with your right hand.
All books are symbolically associated with Saraswasti – the goddess of learning and creativity. It is considered disrespectful to place the feet or sit on books.
Do not bring any drinks or food items from outside to the ashram as this disrupts the schedule and diet suitable for ashram life. If you have any dietary requirements due to health reasons, we will do our best to accommodate your needs.
The guidelines have been set up in order to maintain a pure atmosphere and make the ashram stay a true spiritual experience for its guests.
FACILITIES: library and internet access are available outside of class timings.