Dates: January 5 – 12, 2019
The tissue in our body needs an appropriate exercise in order to stay healthy, grow and heal. The law of our body is: Use it or lose it.
Yin Yoga originated in the US and was founded by Paul Grilley. It is a soft and slow asana practice without any correct or exact form. While the connective tissue, fascia and soft tissues of the joints are trained in a specific way, our muscles remain relaxed. The postures are held without any effort or strain. Yin Yoga has a strengthening and regenerative effect on the tissues while the entire system enjoys deep states of relaxation. Physical restrictions disappear and energy flows.
Yin yoga positively influences the joints and myofascial structures mainly of the pelvis, legs and spine. During the course of the training you will study these parts of the body in detail: muscles of the thigh and torso as well as the skeletal variations of the legs, hips and spine. You will learn how asanas work in these different areas and how each individual will approach asana practice to avoid injuries or frustration and enjoy the deepest benefit of the pose.
This course will give you a whole new understanding about the importance of an individual approach to asana practice and infuse your teaching with new enthusiasm, as you will be able to recognize the anatomical differences in your students and provide them with appropriate individual guidance.
What you will learn in this training:
• Yin Yoga in theory and practice, theory of exercise, Yin & Yang-theory, the functional approach to yoga
• Overview: 14 skeletal segments, 10 muscle groups
• In depth study of 9 muscle groups (thigh and torso mandala)
• Skeletal variations: ankles, tibia, femur, hips and spine
• The 7 archetypal asanas and their variations
• Functional analysis of asanas (spinal twists, hip openers and sitting postures, backbends and forward bends)
• Target areas in Yin Yoga
• How to teach Yin Yoga
• Fascia and the regenerative effect of Yin Yoga
• Sequencing a Yin Yoga class
Daily schedule:
6:30 to 7:20 AM Meditation (25 Min. sitting meditation on the roof, 20 Min. walking meditation
7:30h Tea
08:00 – 9:00h Lecture/Workshop
09:00 – 10:00h Yang to Yin Yoga Class
10:15 Brunch
10:45 – 11:30h Seva
13:00h Tea
13:30 – 15:00h Lecture/Workshop
15:30 – 17:15h Yin Yoga Class
18:15h Dinner
19:30 – 20:30/21:00h Meditation, chanting or story-time
Teachers:
Maheshwara Manfred Lehner, yoga teacher (BYV) and yoga acharya (ISYVC), Yin Yoga Teacher Level 1 & 2 with Paul Grilley, meditation course instructor (BYVG), long time experience in teaching teacher trainings since 2002 (YV Speyer, ISYVC in the US & India, SYVP India), post graduate biologist, physical therapist;
Shakti Simone Lehner, yoga teacher (BYV) and yoga acharya (ISYVC), Yin Yoga Teacher Level 2 with Paul Grilley, meditation teacher (BYV), MBSR-Trainer, long time experience in teaching teacher trainings since 2002 (YV Speyer, ISYVC in the US & India, SYVP India), post graduate biologist, naturopath, Ayurveda- & hormone yoga therapist.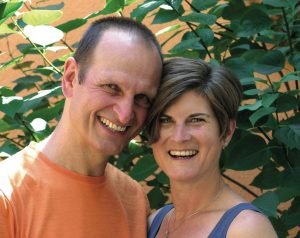 Both did their yoga teacher trainings with Yoga Vidya in Germany (BYV) and the International Sivananda Yoga Vedanta Centers (ISYVC) in India in 1999 and 2001. In 2003 they founded the Yoga Vidya Center in Speyer, Germany where they teach courses and trainings since then. Every year they visit India to continue and deepen their knowledge. They also organize yoga-pilgrimage-tours through different parts of India and study philosophy and sanskrit with their yoga and vedanta teachers Swami Govindananda and Swami Tattvarupananda in Kerala. Every January they teach anatomy and asana classes in the advanced training for Yoga Teachers (YTTC Level 2) of the Sivananda Yoga Vidya Peetham. Maheshwara´s passion is the teaching of yoga anatomy with a lively, practical and down to earth approach. Both teach with humor and love forged from 21 years of practice and teaching experience.
After completing all parts of the course including the meditations sessions, Karma Yoga and Satsangs and the successful completion of your exam (Writing a short paper on a given topic of yin yoga), you will receive a certificate "Yin Yoga Instructor (50 hours)" or after attending both modules "Yin Yoga Teacher (100 hours) " by Arsha Yoga Gurukulam.
Arrival day: Saturday, 5 January
Start of the course: 3pm
please arrive latest by noon on the 5th, you are welcome to book your stay a 1 day prior to the beginning of the course to enjoy the serene atmosphere, get accustomed to the climate or to recover from your jet lag. (additional cost of 1.000 INR per night applies)
End of the course: Saturday, 12 January 10:30 am
Course fee: EARLY BIRD discount 600€ until September 30th 2018, 690€ thereafter incl. food & accommodation (Indian Nationals 30.000 Rupees). Non-refundable deposit of 100€ due upon registration. Balance fees can bring in cash in USD or EUR.