January 16-22, 2023
with Madhavi and Meera
at Arsha Yoga, Kerala, India
Reconnect with your feminine power
Welcome home to yourself!
Are you in search of your authentic feminine power?
Join us to experience Śakti Sādhana, a spiritual practice for women to reconnect with their inborn feminine power.
An opportunity for empowerment, self-love, personal growth and female wisdom.
A space for the sisterhood of women, surrounded by Indian nature on the shore of the Arabian sea.
A deep connection with the sacred feminine to awaken the Shakti, the goddess that lives within you.
In this retreat, we would like to gently guide other women back to the connection with their inborn feminine nature, back to their power that each of us has inside. By reconnecting to our divine feminine nature, we create a safe space where old wounds may heal, where contradicting feelings and emotions may co-exist, where old can be released and something new and magical created.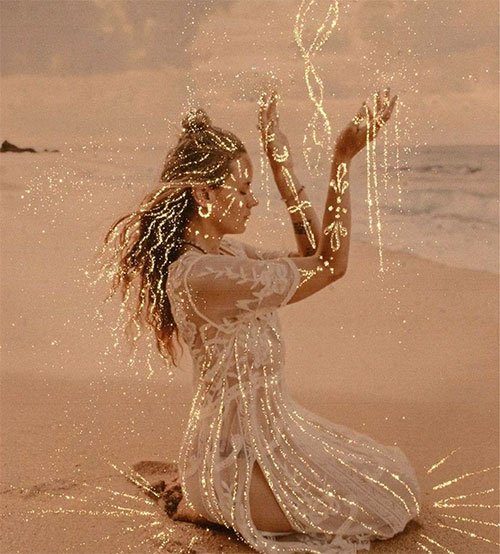 What is Śakti Sādhana?
It's a spiritual practice for women that consists of 5 main pillars:
Mantra, to open and feel the heart.
Mudra, to channelise prana, our life force, and connect to our soul.
Bhakti, to connect to our spiritual heart, who is HER, our inner teacher.
Yoga Nidrā to identify the different cycles in a woman's life under the guidance of the daśa mahāvidyā – the 10 tantric goddesses.
Saṇgha to express ourself with an open heart and without judgement or competition in a welcoming community of other like-minded women.
During the retreat you will honour your cycle and your feminine wisdom, you will connect with the basic elements and with Mother Earth.
We will celebrate being a woman and being Shakti.
We will do rituals, ceremonies and women's circles.
We will go to the deepest cycle wisdom through Yoga Nidra.
We will do workshops and sing together.
We will practice Shakti Hatha yoga, meditation, and consciousness movement.
We will appreciate the local culture exploring the surroundings.
Retreat Venue
Arsha Yoga Gurukulam (www.arshayoga.org) 
is located in silent village surroundings of central Kerala, just 50m from the Arabian sea, where traditional knowledge of yoga, Ayurveda and Vedanta is being impaired.
The Gurukulam provides accommodation in 2 different categories: 
2 double rooms with shared bathroom (sleeps 4) or 3 deluxe safari tents (sleeps 6)

suite with double occupancy with attached bathroom, balcony and kitchenette (sleeps 2)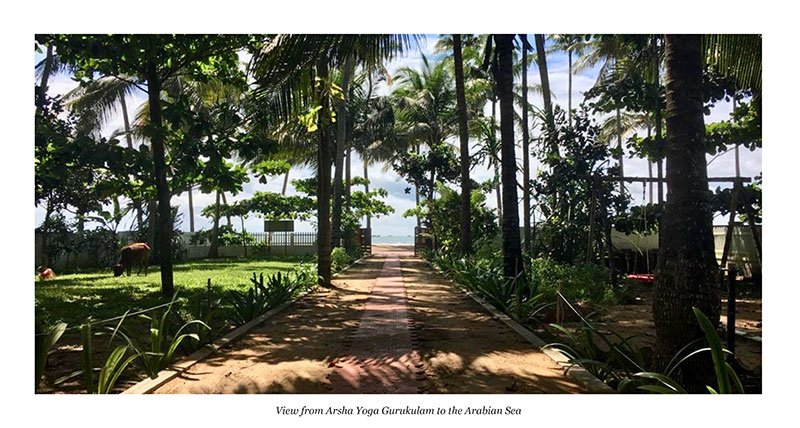 The Ashram provides two simple vegetarian ayurvedic meals per day that suit the learning and practicing of yoga and two times chai and snacks.
 We take effort to provide homegrown organic vegetables and fruits from our garden. What we eat, we serve also. We do not use any chemical detergents such as washing powder or cleaning detergent. Our main home makers are vinegar, baking soda and soap nuts. Even though the soil is mostly sandy, since some time, our garden doesn't need any extra fertiliser, as we use the mixture of cow dung from our cow Parvati and compost waste. This is the way we honour our Mother Earth. 
About Us
It is said that everything comes at the right time… and so it was with yoga. Madhavi discovered this ancient system of practice
when she was 40 years old. In the first stage of my practice, yoga helped me to maintain my emotional balance and my physical condition during a very unstable period in my life. It gave me a lot of strength and security. In the middle of 2016 I moved to the Netherlands. Finally, a period of stability arrived and with it the opportunity to deepen my personal practice, so I decided to train as a yoga teacher to work more on myself.Certainly yoga has allowed me to be in constant growth as I have managed to integrate many of its aspects into my daily life, now living it with more fullness and vitality. But something was still missing: the feminine side so I went to find her and I found her in my inner self. Since then, my yoga practice has been developing more focused on the essence of the feminine, which has helped me empower my body and develop a creative expression as part of my transformative Shakti energy. Now at my 50´s I guide myself in each phase of my cycle, flowing in harmony with the functioning of my female body and my hormonal changes. Now I practice a womb-friendly more aligned with my Shakti energy. My choice of a type of yoga is determined by the time of my cycle and not by a rigid and extremely disciplined practice. I'm currently in perimenopause, so this attitude towards a womb-friendly yoga more for the feminine side has helped me a lot to flow with the new changes of this natural stage of a woman. This has allowed me to connect with my body, honour it as it deserves so I'm the one who decides how my practice will be.
Besides her translation and interpreting studies in Germany, Marie Meera Karanath completed her two years yoga teachers` training course in 2006 and one year yoga therapy instructors' course in 2008. After gaining experience for three years as a yoga teacher in Germany,  she has continued her teaching practice at Arsha Yoga since 2009. She is one of the teachers and the course coordinator of Arsha Yoga, at the moment also a full time mother. Her main passion is yin yoga, individual yoga therapy, kirtan, mantra chanting and woman's work. "Living in a different country teaches you to set your ego aside, to reassess your social and cultural background, to come out of the cocoon and become a butterfly. This has to happen. My daugther, Gayatri, is the greatest teacher in this regard."
Investment and registration
For registration please fill the google form: https://forms.gle/eAzh4x63u3FMookQ6  and pay the non-refundable deposit          100 eur via wise.com  to book your spot. The price of the retreat differs according to the type of accommodation. Accommodation will be assigned on a first come first serve basis. In case of an unexpected event, such as covid, the deposit amount can be transferred towards another course conducted by Arsha Yoga. 
There are 2 types of accommodation: 
2 double rooms with shared bathroom (sleeps 4) or 3 deluxe safari tents (sleeps 6)

 

500 euro

Deluxe suite (sleeps 2) with attached bathroom and seaview, balcony and kitchenette

 

600 euro

 

                                                                                                                                                                                                                                                                                 

The prices above include food and accommodation, both trips (silent boating on the backwaters and visit to the nearest town Thrissur including shopping for Indian clothes), goddess ceremony and all yoga programs for the whole 7 days of the retreat. You will need only pocket money for souvenirs or food outside the ashram.

 
Dear sister, if you feel the call, kindly CLICK HERE to view a detailed brochure made with love.