Free Information meetings
Meet your teachers and get all information on the training.
Sunday 10 April 10.30-11.30
Friday 19 August 19.00-20.00
Please register through the event on our agenda by email to [email protected].
DATES in 2022:
1WE 15.-16.10 (online)
2WE 18.-19.11. (in-person with Harilalji and Claudia) at Yoga Vidya Rotterdam, Netherlands (www.yoga-vidya.nl)
3WE 16.-18.12. online
DATES in 2023:
4WE 28.-29.1. online
5WE 25.-26.2. online
6WE 25.-26.3. online
7WE 22.-23.4. in person with Meera and Claudia at Yoga Vidya Rotterdam, Netherlands
8WE 20.-21.5. online
9WE 24.-25.6. in person with Harilalji and Meera at Yoga Vidya Rotterdam, Netherlands
10WE 15.-16.7. online
1 week in Bad Meinberg 20.-27.8. 2023 (in case of Yoga Vidya certification) OR 1 week at Arsha Yoga in South India in October 2023 (in case of sufficient participants) certified by IYA (International Yoga Association)
✶ please note that the offline and online sessions might vary slightly as per the evolvement of the pandemic situation.
IMPORTANT NOTE: There will be 3 offline sessions at Yoga Vidya Rotterdam (www.yoga-vidya.nl) dedicated to Kriya practice. The venue and the exact date will be decided according to the pandemic situation.
In ancient times, yoga used to be taught one-on-one. Today, group yoga classes are a more common phenomenon. However, if we want to assist our students in the most efficient way in response to their specific needs, we need individual yoga or in another words yoga therapy.In this four weeks course we build on a concept that each body and mind is unique. It is impermanent and can be moulded at any given time. It changes with time, disease or as adjustment to external conditions.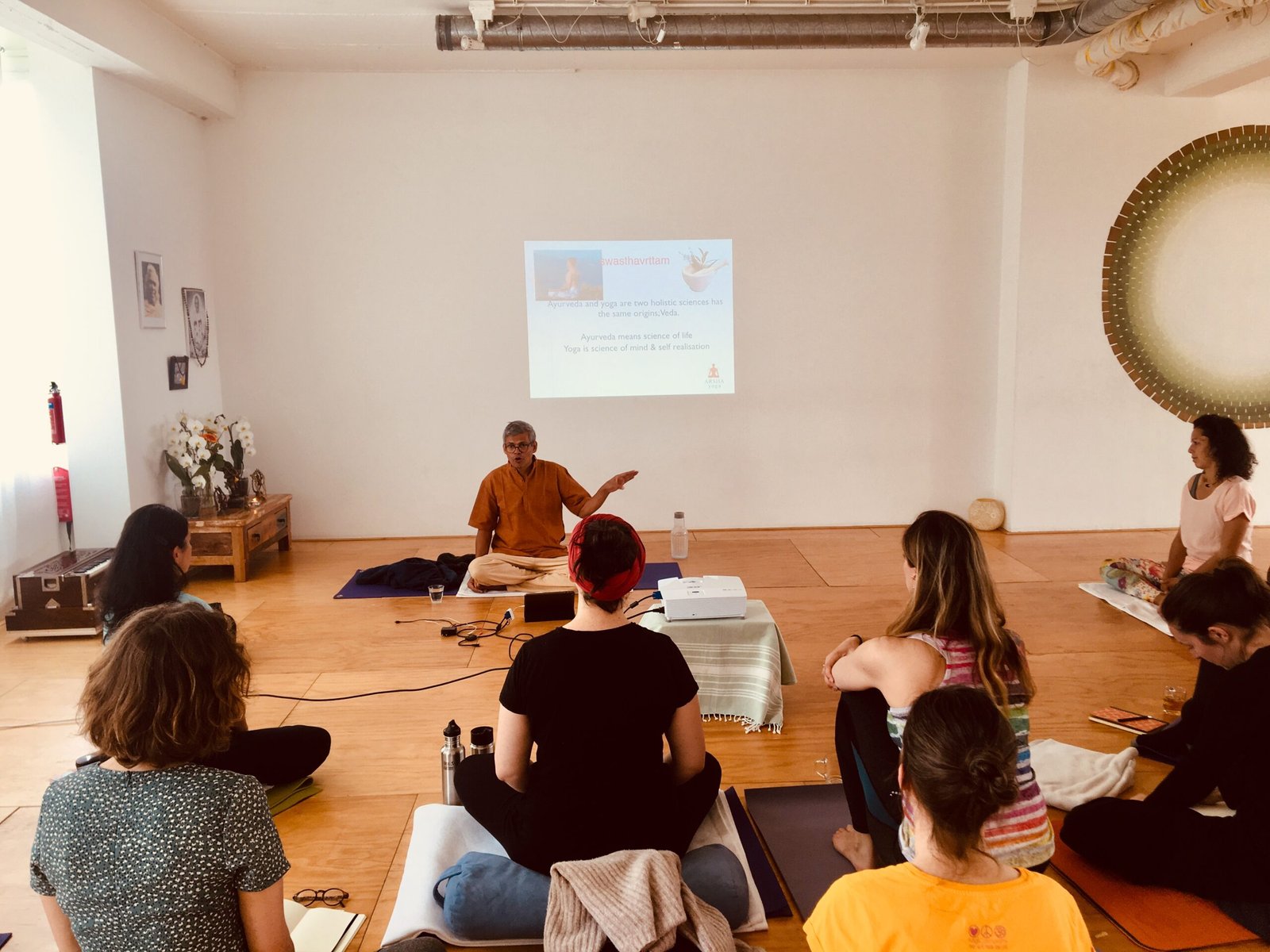 We have been training yoga teachers in yoga therapy for more than a decade now and we love to share the Eastern wisdom combined with modern science. Over th years, this combination has proven itself to be the magical and yet logical potion.
If we want to improve our health in a holistic way, we need to look closely at a few factors that compose the human existence: body, breath and its associate prana, different parts of the mind, the concept of soul and eternal happiness that we call in yoga Pancha Kosha – five sheath existence.It is the birth right of every human being to feel healthy and fulfilled. You don't have to change your partner, your house or the country of residence. You only need to change your attitude and restore the feeling of completion which is already within you but has been covered by layer of conscious or unconscious thoughts, impressions and experiences. In this sense yoga therapy doesn't mean learning but rather "unlearning". Yoga Therapy doesn't deal with the symptoms, but primarily with the root cause of the disease, which is in the mind. At the same time, yoga therapy is a scientific method to work on all levels of your existence (Pancha Kosha) at the same time to eradicate the disease completely and reach sustainable health and happiness.
Join us for this journey within! Only when you know yourself, you will be able to direct others on the similar internal quest for sustainable happiness.This course deals with topics such as comprehensive yoga therapy, Panchakosha Tattwa (five sheaths existence), Adhi (distress), Vyadhi (disease), Svastha Vrittam (prevention according to Ayurveda), consultation, Vijnanopadesa (yogic counselling), basics of anatomy and physiology, rehabilitation and psychosomatic diseases. Besides the classical yoga techniques, you will acquire many special techniques from yoga therapy such as cyclic relaxation or prana channalizing. Part of the course is also a detailed study and practice of the cleansing techniques – Shatkriya.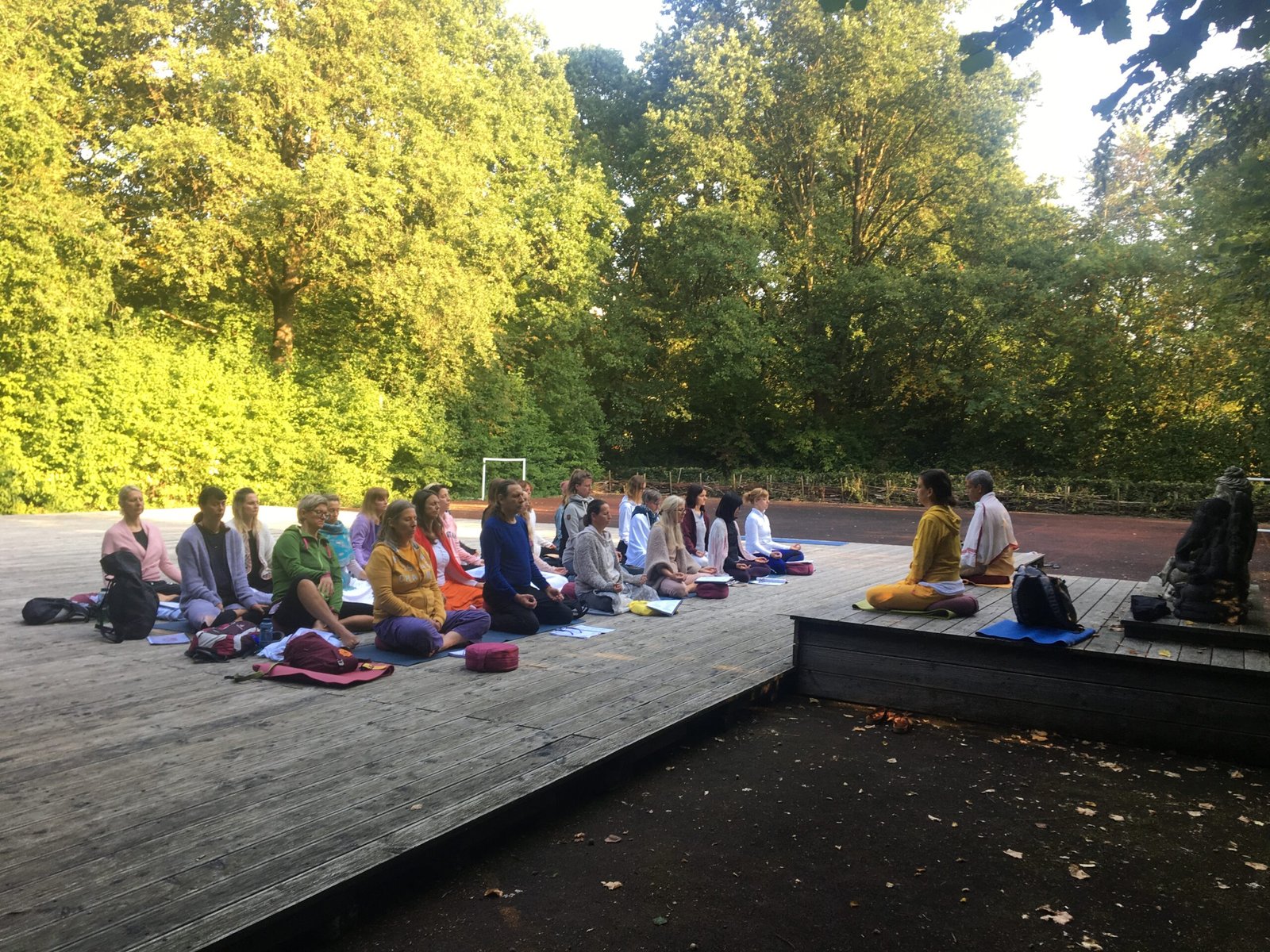 Today, where almost everyone suffers of one or more chronic diseases, the individual approach is of outmost significance.
After completing this course you can either handle people in the form of individual consultation sessions or you can implement the teachings into your yoga classes.After having passed the practical and written exam and having proven your abilities to become yoga therapy instructor during the whole course of training, you will be awarded a certificate bearing the title Yoga Therapy Instructor certified by both Arsha Yoga as well as IYA (International Yoga Association) www.yogaiya.in.
CURRICULUM (260 hrs)
Practice (118 hrs): therapeutic effects in asana, pranayama, meditation, mantra, kriya
Theory (48 hrs): 4 paths of yoga in yoga therapy, pancha kosha tattwa (5 sheaths of human existence), adhi (distress), adhija vyadhi (psychosomatic disease) from the Yoga Therapy point of view!
Specific practices for Yoga therapy (48 hrs)
Special techniques for yoga therapy (24 hrs): cyclic relaxation, prana channalizing
Hormone Yoga Therapy (8hrs)
Anatomy and physiology according to functional anatomy by Paul Grilley (6 hrs)
Self-study (80 hrs) non-contact hrs: karma yoga, revision
Staff teachers and guest lectures:
main Acharya: Harilalji (India)
course co-ordinator: Marie Meera Karanath (Czech Republic, India)
practical: Claudia Goettling (Germany) and Meera Karanath
anatomy and physiology: Harilalji
TEACHERS
Acharya Harilalji was born in 1970 and comes from a traditional family in Kerala, South India. He was born and brought up in a traditional Indian environment with agriculture, Ayurveda, Vedanta and Yoga. After attaining the title 'Yogacharya', he lived and taught yoga in Sivananda ashram in Kerala, Delhi and the Himalayas. Later he studied and practiced yoga therapy at sVYASA -the university for yoga- in Karnataka and completed a full time diploma course with an 'A' grade. The subject of his thesis was 'Integrated approach of yoga therapy for psychosomatic diseases'. Curious to experience the western culture, which was the background of most of his students in India, he came to Germany for the first time in the spring of 2001 and has been visiting Europe ever since. He gives seminars and courses on Yoga Therapy, yoga psychology and yoga philosophy in the Czech Republic, Bulgaria and Germany as well as individual yoga therapy. He is also Yoga acharya /Therapist in Nangelil Ayurveda Medical College near Ernakulam in South India. Harilalji is under his guru currently disciple of Swami Bhoomananda Tirthaji.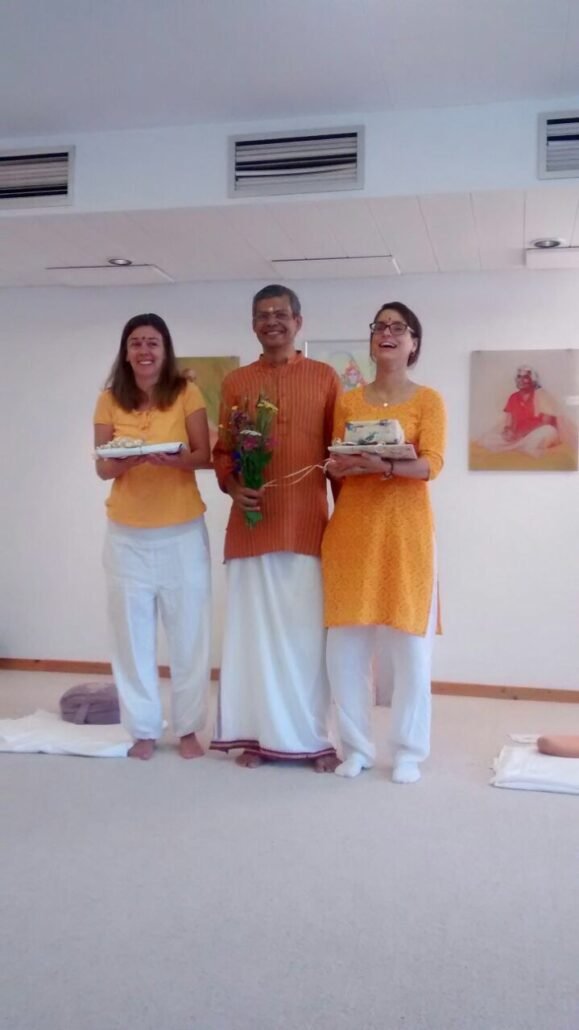 Marie Meera Karanath was born in 1980 in the Czech Republic. Besides her translation and interpreting studies, Meera completed her two years yoga teachers` training course in 2006 and one year yoga therapy instructors' course in 2008. After gaining experience for three years as a yoga teacher in Germany she continues her teaching practice at Arsha Yoga. She is one of the teachers and the course coordinator of Arsha Yoga, at the moment also a full time mother. Her main passion is yin yoga, individual yoga therapy, kirtan, mantra chanting yoga for women – Śakti Sādhana. You can learn something from everyone, especially your enemy. The qualities you see in people reflect your own personality.
Living in a different country teaches you to set your ego aside, to reassess your social and cultural background, to come out of the cocoon and become a butterfly. My daugther, Gayatri, is the greatest teacher in this regard."
Claudia Goettling was born in 1978 in Germany. While working full time in the automotive industry she completed a two years yoga teachers training in 2011. Shortly after starting to work as a yoga teacher a MS diagnosis changed her whole life. At the time, the doctors were surprised at the good physical condition she was in. According to their assessment, she should have felt a lot worse and already sit in a wheelchair. It was very clear for her: practicing yoga saved her from the worst. Time to quit the busy job and devote herself entirely to yoga. She believes in the transforming power of yoga and yoga therapy because she experiences it first-hand every day and wants to share this with others who suffer. Besides yoga one of her great passion is natural aromatherapy, music and travelling with her husband and dog in a camper.
Recommended texts:
1. Yoga Vasishta
2. Asana, Pranayama, Mudra, Bandha from the Bihar School of Yoga
3. Bhagavad Gita interpreted by Swami Dayananda Saraswati
4. Course manual – will be distributed at the beginning of the course
IMPORTANT NOTE: The teaching and schedule will be in a traditional Indian Gurukula system which may be different from what you have experienced until now. The teaching are based on acquiring wisdom rather than information. All participants should be physically and mentally fit when joining the course in order to be able to feel and experience the wisdom of the ancient science of yoga. This training is not meant for curing any disease. All sessions are mandatory and the course is not to be regarded as a personal vacation, even though it might feel like it at the end.
How to set up your ONLINE SPACE:
1. Set up your room as if you were in the yoga center. Create one clean, calm atmosphere with no disturbance from family members or pets.
2. Set up your camera for class so that your face and upper body are clearly visible.
3. For the practical exercises, align your mat horizontally to the camera so that you can be seen completely.
PREREQUISITE: 200-hrs yoga teacher's training of any tradition (basic yoga philosophy must be included; please provide a scanned copy of your certificate upon registration) and sound mental and physical health.
FEE: early bird until March 31st is 1,900 EUR, 2,050 EUR thereafter. Indian nationals: 65,000 INR. Charges for lodging and boarding for the final week whether in India are extra. The charge for one week stay at Arsha Yoga including food and accommodation is 150 EUR. For certification with Yoga Vidya Rotterdam and fees, please contact www.yoga-vidya.nl directly.
A non-refundable/ non-transferable deposit 150 EUR/ 5,000 INR is due upon completion of the online registration. ONLY in the case of sickness or another such unexpected event, the deposited amount will be transferred to another course conducted by Arsha Yoga within the course of 2 years.
For international money transfers, please use Wise.com. More information here: https://wise.com/in/send-money/send-money-to-india-from-europe. Over the years we have found that this is the easiest, safest, fastest and cheapest way to transfer funds to India. Once you have read the instructions and signed up for the course by clicking the button APPLY at the end of the page, we will send you a personal welcome email with the detailed bank information.
TESTIMONIALS:
I really enjoy Harilalji's classes when the birds sing with you in the morning and in my garden at the same time. A wonderful atmosphere for pranayama and meditation. I benefit greatly from pranayama as Harilalji teaches it. I find the visualizations and affirmations very helpful. The subtle channalising deepens my perception. I find this practice more physically relaxed and feel a deeper effect as a result.
Birgit, Germany
Dear Harilal and Meera, I do agree with the other fellow students this course was wonderful. There are hardly any more words left to express the value of what I have learned and experienced last month during the course.It gave me such more insight in the techniques and philosophy of Pranayama since I took my TTC in 2011. The practices were given with more subtleness and gentleness and they brought me to a much deeper and subtle plan.
Henriette, Netherlands
Dear Meera and Harilalji, it is always such a pleasure to be with you personally and also virtually! when i hear your voices and also the backround sounds of the Ashram like animals and even the voices of the election campaign I feel like beeing home. Before the course I thought I might not be able properly and I also in some weeks don't come to practice alone much but still I feel so much more focused and calm with the practice and I'm looking forward to go on from here with meditation the next weeks.
Tina, Austria
Thank you so much Hari. This was a first, being in a course with you and I have had a wonderful experience. I love the insights that you share in each class..things which help us become more aware of ourselves and our own practice and also of our students. The guidance is also very specific, gentle and spot on. It helped me figure out how to adjust the practice to my needs and move forward despite my challenges. I'm looking forward to the meditation course. Meera thanks for all your help too.
Aparna, India