Narayana Tapovanam Ashram
Discourses, guided meditation, question-answer sessions on spiritual pursuit.
Everyday hatha yoga class with Meera from Arsha Yoga (www.arshayoga.org)
Clarification of doubts through one-on-one discussion with teachers.
Introspection on subtle aspects of spiritual practice.
Ashram routine includes hatha yoga, prayers, chanting from Upanishads & other scriptures.
Learning in the Association of Selfrealised Master
Creating a bridge between Eastern and Western knowledge in an international spiritual environment
Short trips (temple visit, shopping and backwater boating)

''Bhagavad Gita is not reserved for ascetics and scholars. In fact, it enables us to understand life and attain perfection, harmony and fulfillment. It inspires and empowers one to excel in whatever field one is.'
– Swami Bhoomananda Tirtha
Forenoon Programme
Location
Time
Tea/Coffee
Annakshetra
5:40 – 5:55 am
Hatha Yoga
Vijnana Bhavan
6:00 – 7:30 am
Breakfast Please assemble by 7.50 am
Annakshetra
8:00 am
Pushpa Samarpanam (flower offering)
Vijnaana Bhavan
9:15 – 10.15 am
Class on Bhagavad Gita
Vijnaana Bhavan
10:30 – 11:45 am
Bhojana Pavitreekaranam
Satsang Hall
12 noon
Bhakti Bhojanam (Lunch)
Annakshetra
12:15 pm
Afternoon Programme
Location
Time
Free time for rest
1:00 – 1:45 pm

& 3:20 – 4:00 pm

Class on Spiritual Sadhana (practice)
Vijnaana Bhavan
2:00 – 3:15 pm
Tea/Coffee
Annakshetra
4:00 – 4:15 pm
Exercise / Walk / Meditation
Outdoors
4.15 – 5.00 pm
Preparation for evening sessions
5.00 – 6.15 pm
Praarthana – Evening Prayers
Samaadhi Mandir
6:15 – 6:45 pm
Class on Bhagavad Gita
Vijnaana Bhavan
7:00 – 8:15 pm
Bhakti Bhojanam (Dinner)
Annakshetra
8:20 pm
Library
Library
8.45 – 9.15 pm
Retire to rooms
Guest Houses
9:30 pm
About Swamiji:
Swami Bhoomananda Tirtha is a Sannyaasin belonging to the 'Tirtha' lineage of Adi Sankaracharya, and an active social reformer. He is widely revered as a spiritual master, scholar and exponent of the ancient Hindu Scriptures – Bhagavadgeeta, Srimad Bhāgavatam and Upaniśads – and is well-known for his discourses on Vedanta and its practical application in daily life.
He has also been instrumental in organizing campaigns for abolition of some discriminative, derogatory and superstitious practices that were followed by some Hindu temples. He has stood strongly for restoration, preservation and promotion of national values, environmental protection, cultural and academic uplifting of village children and development and welfare of rural areas.
Swami Bhoomananda Tirtha was born in 1933, in the village of Parlikad near Wadakkanchery in Thrissur district, Kerala, India. After completing his education, he moved to Kolkata (then known as Calcutta), to join his brothers and take up employment. It was during this phase of his life that he met and got associated with Baba Gangadhara Paramahamsa, a sage from Dakshinkhanda, West Bengal, which eventually led to his introduction to the world of spirituality and seeking self-realization.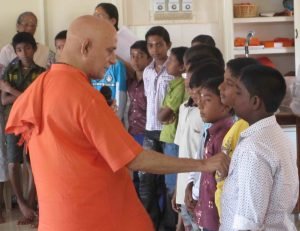 Swami Bhoomananda Tirtha's association with Baba Gangadhara Paramahamsa inspired him to undergo intense meditation and spiritual practice. Ultimately, in 1956, at the age of 23, he renounced his professional life and embraced Sannyāsa, becoming a disciple of Baba. After being initiated into Brahmavidya (Science of Self-knowledge), he undertook assiduous study of the ancient texts and scriptures, as well as the Sanskrit language. As he progressed along the path of spirituality, some of his family members were also influenced to follow him. Later on, he decided to move back to Kerala, where the young ascetic was invited by many people, institutions and organizations for giving discourses on Indian spiritual texts, which gradually developed into his mission of spiritual knowledge dissemination, leading seekers towards the light of self-knowledge. He travelled extensively to conduct discourses, and his proficiency in English, Hindi, Bengali, Malayalam and Tamil made it easy for him to interact with seekers from different parts of the country. In 1963, he set up Narayanashrama Tapovanam, in Venginissery, Thrissur, which has, over the years, developed into a centre of intense research in the fields of Spiritual learning and Vedanta.
This course is purely donation-based as per the traditional Indian teaching concept. Please do not hesitate to contact us for an advice on the adequate donation sum. Your donation will reach a good cause. Short listing of the charitable activities of the ashram as followed:
Monthly and Annual Anna Vastra Daana Satra wherein Rice and Clothing are offered to poor families. A benevolent event, when sponsored by many people, with the aim of benefiting the society at large, verily becomes a Satra. The Anna-vastra Daana Satram is not just to help the recipients materially. The daana awareness instilled in countless men and women spread all over the world, strengthens and enriches the society with lasting rewards. It was with this aim in mind that the Anna-vastra Daana Satram was started in 1985.
Classes for Children.About 150 village children attend these weekly classes on "cultural heritage". These classes have virtually transformed the cultural climate of the village.
Poor school children are given school uniform, exercise books, school bags, etc. every year. Some meritorious students are supported for higher studies.
The Ashram plays a distinct role in making sanitary facilities and bathrooms, constructing wells, bore-wells and houses for the poor.
Support is given for medical treatment and education to indigent persons and special help is given to indigent women to generate self-employment
The other significant aspect of Swamiji's Loka-sangraha is the religio-cultural revolution brought about in Kerala by organizing mass-movements to stop some of the age-old derogatory and superstitious practices prevailing in the name of religious rituals and festivals.

Besides freeing some famous temples from barbarous or vulgar indulgences, and removing from some others the unfair caste discrimination, these movements have wrought a revolutionary change in the attitude of people by cultivating a rational view – supported fully by the scriptures – towards the socio-religious practices.
About the Ashram:
The word 'Ashram' (in Sanskrit) stands for an abode of learning or education.
More than the theoretical knowledge of different subjects, education in our country always meant man-making — purification, fortification and transformation of personality in the holy association of the Teacher, so that the student would become fit to course victoriously through the vicissitudes of life and attain fulfillment.
And Ashrams were the institutions imparting such education. The most important factor underlying the legendary greatness of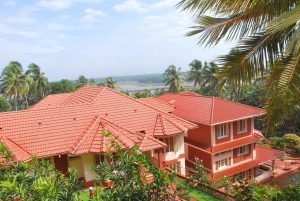 ancient Bharat was these honored seats of learning – the Ashrams – where the saintly Teacher used to empower the students with lofty values and visions that would guide them throughout their life and make them worthy citizens. The Teachers were not paid employees. Neither was there any Central Board of Education or University Grants Commission. The saintly Teachers pursued their role with utmost dedication out of their own integrity, their devotion to Truth and the Nation, sometimes undergoing abject privation. There were more than thousand kingdoms in India, ruled by different kings. But the subjects and values taught in different Ashrams all over the country were identical. Can we imagine such a widespread but uniform education system which was born solely out of the greatness of the Teachers and the society?
We criticize the present education system for burdening the students with information, for ignoring value-inculcation and character-building. But we perhaps fail to realize that character-building can take place only in the association of men of character. An Ashram is an educational institution for value-orientation and personality-development depending basically on the virtues and greatness of the Teachers. "Learning", according to Indian tradition means "becoming" and the institutions where such learning was available were called Ashrams.
Established by Swamiji in 1963, "Narayanashrama Tapovanam" is located on the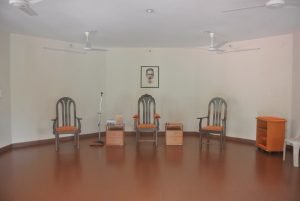 picturesque slopes of the eastern hill of Panadavagiri, in Venginissery village, Thrissur District, Kerala, India. The Ashram is surrounded by dense thickets of coconut trees on the slopes of the hill, which roll down towards the green fields of paddy. The serene beauty of surrounding nature complements the peace and tranquility of the Ashram, which draws seekers and visitors alike to the place, to benefit from the company of a realized Sage, and seek his blessings and guidance on spiritual and personal matters. What was initially a small hut, thus, gradually grew into an institution of spiritual learning with centers all around the world. For more information about the ashram: http://www.narayanashramatapovanam.org/